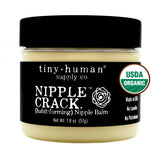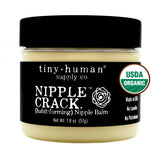 Nipple Crack | Organic Nipple Balm
Breastfeeding CAN hurt sometimes – but this certified organic nipple balm will help ease the discomfort!

Made with premium organic ingredients, this little miracle worker is odorless and tasteless – so you won't have to wash it off before breastfeeding.
Features:
Soothes and protects hardworking nipples on contact for fast relief when you need it the most.

Lightweight formula spreads on easily and doesn't leave a sticky or greasy residue, so it won't stain clothes or clog the pump.
Recommended by a network of lactation consultants, doulas and breastfeeding professionals.
Made in the USA.
Ingredients: Beeswax, Coconut, Shea, Calendula, Olive Oil, Sunflower, Aloe